The most common type of stone benchtop is the following:
Caesarstone
Essastone
Quantum Quartz
This article discusses how you should properly care for these types of benchtop for them to last for a long time. Read on.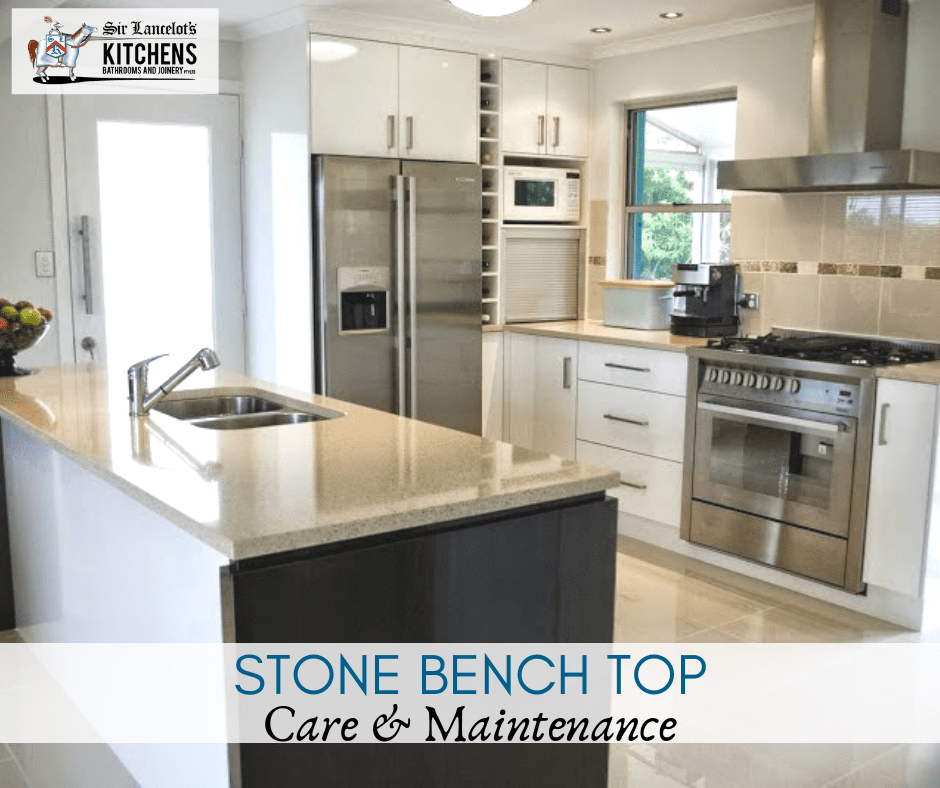 Caesarstone®
Caesarstone® is a 91%-95% quartz based product that has outstanding properties to ensure ease of maintenance and longevity of your surfaces. It will withstand exposure to tea, soda, wine, vinegar, lemon juice and strongly coloured spices. Caesarstone® will never require sealing.  Caesarstone® Australia warrants the product to be free of defects for a period of 10 years from the date of manufacture.
Everyday cleaning
Caesarstone® requires very little maintenance to keep the surface looking like new. For everyday, routine cleaning of Caesarstone® we recommend wiping the surface with warm soapy water (a mild detergent) and a damp cloth or alternatively use a quality spray and wipe type cleaner.
Extra Stubborn dried spills and stains
For removal of these or if you wish to give your Caesarstone® benchtop or surface a thorough clean then we recommend using Caesarstone® brand Cream Cleanser and a 3M™ Never Scratch™ All-Purpose Scrubber which can be used without damaging the stone, or alternatively applied to a soft damp cloth.
To remove adhered materials like food, gum and nail polish, first scrape away the excess with a sharp blade. If there are any grey metal marks on the surface, a mild detergent will remove it. Household bleach can generally be used as an effective cleaner to remove stubborn marks, but care should be taken as some products are considerably stronger than others.
*3M, Scotch-Brite and Never Scratch are all trademarks of 3M Company.
Heat Resistance
Caesarstone® will tolerate brief exposures to moderately hot temperatures, however prelonged contact with very hot pots, pans, electric frying pans and oven trays directly from the hotplate or out of an oven onto the surface of Caesarstone®. We always recommend the use of a hot pad or trivet to place hot items onto.
Polishing
As Caesarstone® is non-porous, it will, therefore, keep its lustrous gloss and ultra-smooth surface without polishing. And it never needs sealing.
Tough – Yes, Indestructible – No
As with any surface, Caesarstone® can be permanently damaged by exposure to strong chemicals and solvents that undermine its physical properties. Do not use products that contain trichloroethane or methylene chlorides, such as paint removers or strippers. Avoid any highly aggressive cleaning agents like oven cleaner that have high alkaline/pH levels. Should the surface be accidentally exposed to any of these damaging products, rinse immediately with water to neutralise the effect.
Quantum Quartz
Quantum Quartz Solid Surface products contain generally Quartz and silicate minerals that are resistant to acids, alkalies, chemicals and solvents, highly impervious, highly resistant to heat, scratch and chip resistant, resistant to stains, resistant to mildew and mould and immune to freezing and thawing. Quantum Quartz offers a 10-year limited warranty.
These characteristics of Quantum Quartz make them easy to care and maintain.
Quantum Quartz Solid Surface is highly resistant to stains caused by fruit juices, liquid food colouring, coffee, tea, wine, grapes, soft drinks, paints, nail polish and remover, automotive fluids and permanent markers. If accidentally any of the above is spilt on the tops, wipe off the stained area with any commonly available multi-purpose cleaner or household detergent and then with ordinary water immediately.
For more stubborn spills and stains, repeat the procedure several times and use a household scouring pad to remove the stain. It is possible that some of the stubborn stains may leave a light mark or very slight discolouration on the stones.
The high gloss finish and extremely low moisture absorption of Quantum Quartz Solid Surface fully eliminate the need for any sealing. Its low absorbency greatly reduces the potential for bacterial growth.
Quantum Quartz Solid Surface is structurally more heat resistant than other natural stones, including granite. But the sudden and rapid change of temperature, especially near the edges can damage the surface. We always recommend using a hot pad or trivet, especially when using cooking units such as electric frying pans, crock pots, or roaster ovens.
The common kitchen implements including sharp knives won't harm the Quantum Quartz Solid Surface as they are made up pure natural quartz. Quartz gives the superior strength and beauty. Quartz has a hardness of seven on the Mohs Hardness Scale. (Diamond has a hardness of ten).
If accidentally, food, chewing gum, nail polish, paint or any other foreign matter found sticking to the top, simply scrape away the same with a sharp blade. The metal surface used in scraping the dirt may leave grey metal marks on the surface, and ordinary scouring pads can easily remove them.
Wash and rinse the surface in the normal way with water. Quantum Quartz Solid Surface can be permanently damaged by constant exposure to strong chemicals and solvents. It is advisable not to use hydrofluoric acid, and any products containing trichlorethane or methylene chloride and also paint strippers.
Quantum Quartz surfaces when exposed to direct sunlight may result in slight colour changes, it is advisable to avoid direct sunlight over a prolonged period on the surfaces.
We can all make a positive impact by buying Australian Made. In these uncertain times it is even more important to unite and together champion all things that are great about Australia.  Choosing an Australian made kitchen manufactured in Australia from Australian...