KITCHEN DESIGN AND LAYOUT
Whatever your budget, we can design and create the perfect kitchen for you. We have trained experts who are up to date with the latest products, trends, technologies and designs available. Using 3D imaging software we can create your dream kitchen for you to see from all angles on our LCD screens to discuss ideas. We offer you a solution that will guide you through all of the design and selections options to make sure you get the absolute best possible outcome. We recommend you look through kitchen and home magazines, look online or through our portfolio of works and inspirations.
KITCHEN STYLING AND FINISHES
Once you've chosen your design and layout of your new kitchen, we can assist you with the options available in colours, materials and finishes. With so many options available we can cater your selections to meet your individual tastes and style making your Sir Lancelot's Kitchen truly unique. The quality of your kitchen relies upon the quality of the products used to manufacture your kitchen. We use only the highest quality reliable materials sourced from quality suppliers. For more information on our suppliers click here.
KITCHEN MANUFACTURE
At Sir Lancelot's Kitchens we take pride in our quality workmanship and attention to detail. After finalising your kitchen design and selections we will set to work to custom build your new dream kitchen. Our manufacturing processes are tried and tested and ensure you a quality product that you can rely on.
Sir Lancelot's Kitchens, Bathrooms and Joinery is a Master Builder award winner in joinery. This gives piece of mind of our quality workmanship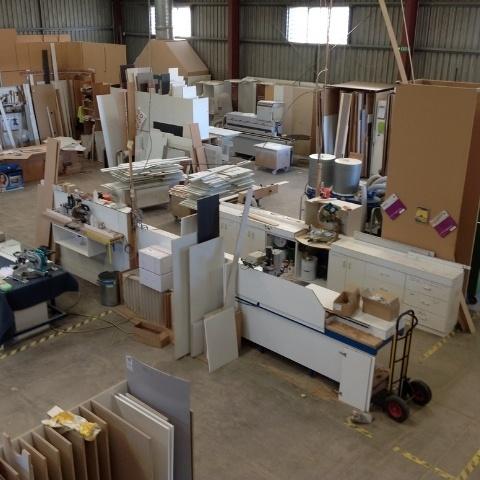 KITCHEN INSTALLATION
For renovation kitchens we ensure that you are without your kitchen for the least amount of time. Through careful planning and scheduling we can ensure that we won't disrupt your home for too long.
The installation of your kitchen by professional cabinet makers at Sir Lancelot's Kitchen, Bathrooms and Joinery will ensure that the final product in your home will function how you expect. With attention to detail you can be assured of a quality finish
AFTER SALES SERVICE
We pride ourselves on our kitchens and we want to ensure that you, our customers, are completely satisfied with your new Sir Lancelot's Kitchen, Bathroom and Joinery. We put your needs first, which is why we will provide you with warranty details and maintenance tips on how to care for your new kitchen so that it looks fantastic for many years to come
We are starting to move some things in our kitchen now and have even cooked a few meals here. We love it and thank you for providing us with such a stunning kitchen
~ Bec
We were most impressed with the fact you arrived early and did not leave until the job was completed
~ Wendy
 A big thank you for the new kitchen you installed last week. It looks fantastic.  Your workmanship is excellent and we are very happy with all you have done for us
~ Don